Marvaco to LED technology and 3rd FlexoExpert
publication date: 2021/10/12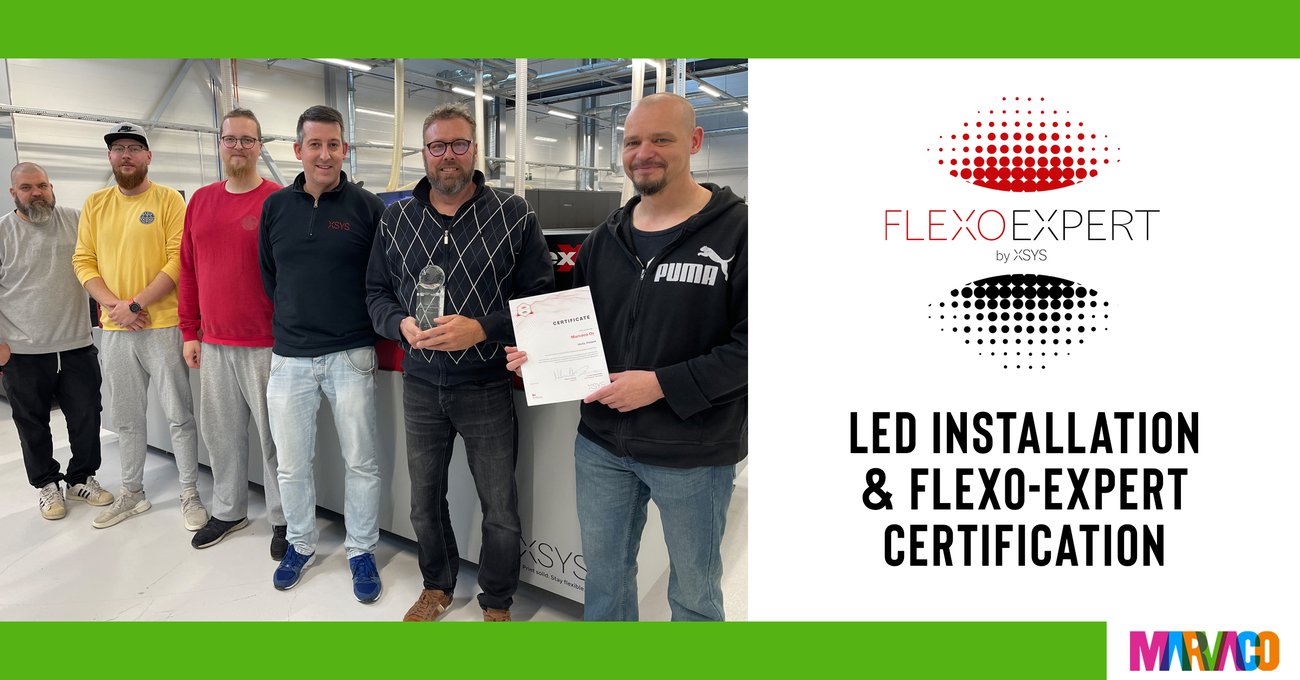 Marvaco moves to new LED technology along with FlexoExpert certification in the Nordic countries. Team Marvaco with Jan Masajew from XSYS (in the middle).
Marvaco, a leading packaging prepress provider and flexographic plate maker for brands and printers, installs new UV-LED plate-making technology and completes the FlexoExpert certification in all of its plate production units in the Nordics.
Marvaco continues its pioneering work by starting to use LED exposure in flexographic plate production – the first of its kind in the Nordic countries. At the same time, the company's new production unit in Pori has passed its final FlexoExpert audit. "This investment further increases our product quality and environmental sustainability of our production as we move to UV-LED exposure. The previously unseen new LED technology allows us to move from HD and Full HD plate quality to Ultra HD screening in flexo plates," says Marko Valkamo, Chief Prepress Production Officer at Marvaco.
"The full completion of the FlexoExpert certification at Marvaco has unified our operations and way of working between sites. The streamlined production further harmonizes Marvaco's production quality. For this, I would like to thank our team and the supervisors from the XSYS. It required a lot of work, but we all are happy about the results," states Vesa Maukonen, Head of Pori unit.
Paul Campbell, Commercial Director at XSYS, says: "We are very pleased with this continuation of our long-term partnership with Marvaco. We brought in the best technologies and technical knowhow to drive the success of Marvaco and promote sustainable packaging printing. Marvaco is a true pioneer in sustainable prepress production and Expanded Colour Gamut (ECG) printing. This will help us develop even more efficient and environmentally-friendly processes."
Marvaco is constantly developing solutions to increase the environmental sustainability of its operations. This year, the company has substantially lowered its CO2 emissions from production, while delivering the same effect to printing production in cooperation with its customers. The combination of technologies in close cooperation with partners is key in ensuring a sustainable packaging supply chain.
MARVACO is the leading packaging premedia company and flexo plate supplier in the Nordic region. The company is the leading EGP supplier in Northern Europe, and its services cover the full range of brand business artwork management and line extension creation to all packaging materials and printing methods.
Tags: #FlexoExpert #Sustainability #Innovation #GreenerPrinting #HiQ_EGP #EGP #ExpandedGamut #CMYKOGV #Bellissima #BrandColors #Flexography #Packaging #Marvaco
Contact:
Marko Valkamo
Chief Prepress Production Officer
Marvaco Ltd
T: +358 (0)50 4277 601
E: marko.valkamo@marvaco.com
www.marvaco.com